from Edward Abbey
I am here [in the desert] not only to evade for a while the clamor and filth and confusion of the cultural apparatus but also to confront, immediately and directly if it's possible, the bare bones of existence, the elemental and fundamental, the bedrock which sustains us. I want to be able to look at and into [a cactus], a juniper tree, a piece of quartz, a vulture, a spider, and see it as it is in itself, devoid of all humanly ascribed qualities... To meet God or Medusa face to face, even if it means risking everything human in myself. I dream of a hard and brutal mysticism in which the naked self merges with a nonhuman world and yet somehow survives still intact, individual, separate. Paradox and bedrock.
... the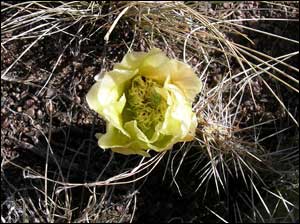 most beautiful individual flower [in the desert], most people would agree, is that of the cacti: the prickly pear, the hedgehog, the fishhook. Merely opinion, of course. But the various cactus flowers have earned the distinction claimed for them on the basis of their large size, their delicacy, their brilliance, and their transcience... The cactus flowers are all much alike, varying only in color within and among the different species.
The true distinction of these flowers, I feel, is found in thecontrast between the blossom and the plant which produces it. The cactus of the high desert is a small, grubby, obscure and humble vegetable associated with cattle dung and overgrazing, interesting only when you tangle with it in the wrong way. Yet from this nest of thorns, this snare of hooks and fiery spines, is born once each year, a splendid flower. It is unpluckable and except to an insect almost unapproachable, yet soft, lovely, sweet, desirable, exemplifying better than the rose among thorns the unity of opposites.
Edward Abbey, Desert Solitaire