Rooftop Oasis
David M. Denny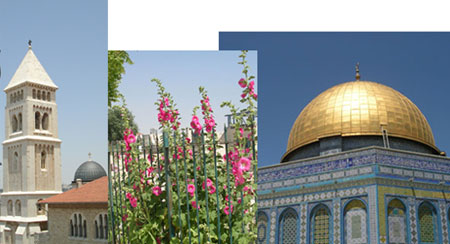 If you stay overnight in Jerusalem's Old City, you won't need an alarm clock. Somewhere between 3:00 and 4:00 am the muezzin begins his electronically amplified call to prayer. Not the muezzin, but a handful. They are not synchronized, so as you lie in the dark, you may pick out the first words of the first chanter if you know a little Arabic: Allahu akbar, Allahu akbar (God is great, God is great). He goes on to chant, "I testify that there is no god but Allah, and Muhammad is his prophet." But by this time, voices from minarets all around the city have begun and the cacophony sounds like a swarm of wasps with microphones.
When I was in Jerusalem recently, I usually managed to fall asleep again until sunrise, when Christian bells rang from the nearby Holy Sepulchre, Lutheran and Maronite bell towers. I awakened in the Lutheran Guest House on St. Mark's Street near the Jaffa Gate, quickly dressed, and tiptoed through the hall and down the staircase onto the rooftop garden. Roses, lavender and hollyhocks created an island oasis among the surrounding flat rooftops sprouting with satellite disks, TV antennas and water tanks. Just a few blocks away, glittering under the low sun, lay the Dome of the Rock and al-Aqsa Mosque. Beyond them rose the Mount of Olives, part of its slope covered with the tombs of an ancient Jewish cemetery.
In May,Tessa Bielecki and I traveled to Israel/Palestine with the Colorado Friends of Sabeel. To learn more about the spirit of the trip, you may wish to visit two websites related to Sabeel, an ecumenical grassroots liberation theology movement among Palestinian Christians and Friends of Sabeel North America. Or, better yet, begin with our profile of Sabeel in our Circle of Friends feature.
We are collecting our thoughts and beginning to record our experiences. Please check again soon for updates, which will include an expanded diary of our trip in this new regular web feature, "Walls and Bridges: Holy Land Watch." As we share what we learned on our journey and introduce you to some of the people and organizations working for peace and reconciliation between Israelis and Palestinians, Jews, Christians, and Muslims, we hope that you will read and investigate with an open heart. A Palestinian friend in Jerusalem told us that he hoped we would not become pro-Israeli or pro-Palestinian. Rather, he suggested, we must discover a "third side" of this conflict's coin. This is the "non-dual" vantage. It refuses to attribute all good to one side and all evil to the other. It seeks healing and a future for all.
American Rabbi Michael Lerner believes that political terms for a just settlement between Israel and Palestine are fairly clear. "But all that political detail is ultimately irrelevant," he writes in the May/June 2007 issue of Tikkun, "until there is a more fundamental change: an opening of the hearts of Israelis and Palestinians to each other … Politics is a manifestation of the spiritual and ethical consciousness of humanity, and it will never solve problems until we are willing to work simultaneously on all these different levels."
You may hear more from Rabbi Lerner in a brief public service announcement sponsored by Imagine-Life. In fifty-five seconds you see moving footage of the Wall, find out its size, some of its effects on the Palestinian people, and hear Lerner's assessment that it is an obstacle, not an aid, to peace.
As we observe the fortieth anniversary of the Six Days War and prepare for the sixtieth anniversary of the founding of Israel, we pray that the deep spiritual wisdom of Abraham's descendants, Jewish, Christian, and Muslim, will inspire all the faithful to bring healing and hope to a climate that, as it now stands, is unsustainable.