Three Cups of Tea
Reviewed by Fr. Dave Denny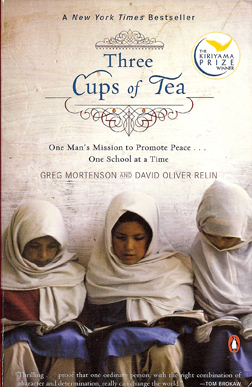 "Americans care about Buddhists, not Muslims. This guy's not going to get any help."
"… no one in the mountaineering world is going to lift a finger to help the Muslims. They have too many Sherpa and Tibetans, too many Buddhists, on the brain. What if I endowed a foundation and made you the director? You could build a school every year."
-- Jean Hoerni
These quotations from Swiss-born physicist Jean Hoerni partly explain why Three Cups of Tea: One Man's Mission to Promote Peace … One School at a Time, by Greg Mortenson and David Oliver Relin, is an important book. One of Mortenson's first supporters, Hoerni was an avid climber who struck it rich by inventing and patenting a process that paved the way for the silicon chip. He took an interest in Mortenson's wish to build schools in Pakistan because he perceived and deplored American anti-Muslim prejudice. He also perceived that Mortenson is an extraordinary man.
Mortenson's odyssey is something like Edmund Hillary meets T.E. Lawrence meets Ernest Schackleton meets Mother Teresa. It begins with Mortenson's 1993 failure to arrive at the summit of K2 and his subsequent journey down the mountain, lost and alone. He stumbles into the village of Korphe at the base of northern Pakistan's Karakoram Range. The village elder, Haji Ali, takes him in and the village nurses him back to health. Mortenson, who grew up as the son of missionaries in Tanzania, falls in love with this impoverished town and its people.
Rather than graciously thanking the citizens of Korphe and sending them some money from America, Mortenson becomes obsessed with building a school for them. The obstacles, both in America and Pakistan, are enough to daunt the most courageous and resourceful person imaginable. But Mortenson is unimaginable. And after building one school, he builds more than fifty.
Three Cups of Tea includes marvelous descriptions of village life and portraits of elders, youths, taxi drivers, sherpas, con men, mujahidin and mullahs. The friendships that develop between Mortenson and the people of northern Pakistan reveal Muslims who go to great lengths to support the work of one American "infidel." I wish that American military and political leaders had half Mortenson's understanding of this culture. We would do well to listen to Pakistani voices. Here is an enlightening exchange between Mortenson and Brigadier General Bashir Baz. After commending the United States for intervening in Afghanistan, Baz watches television footage of Baghdad in 2003 and laments:
"I'm a moderate Muslim, an educated man. But watching this, even I could become a jihadi. How can Americans say they are making themselves safer?" Bashir asked, struggling not to direct his anger toward the large American target on the other side of his desk. "Your President Bush has done a wonderful job of uniting one billion Muslims against America for the next two hundred years."
"Osama had something to do with it, too," Mortenson said.
"Osama, baah!" Bashir roared "Osama is not a product of Pakistan or Afghanistan. He is a creation of America. Thanks to America, Osama is in every home. As a military man, I know you can never fight and win against someone who can shoot at you once and then run off and hide while you have to remain eternally on guard. You have to attack the source of your enemy's strength. In America's case, that's not Osama or Saddam or anyone else. The enemy is ignorance. The only way to defeat it is to build relationships with these people, to draw them into the modern world with education and business. Otherwise the fight will go on forever" (p. 310).
For those of us who may accept that a worldly military man may take a stand as a "moderate Muslim" while suspecting that no imam or mullah represents this sane position, Three Cups of Tea introduces Syed Abbas Risvi, leader of northern Pakistan's Shiite Muslims. After one village religious leader issued a ruling intended to prevent Mortenson from building more schools, Mortenson's Pakistani friends asked a trusted scholar to appeal to a higher court: the Supreme Council of Ayatollahs in Qom, Iran. The question: was the ruling (fatwa) against Mortenson's work justified? During the months of waiting for a reply, Mortenson met Syed Abbas. Suspicious at first that Mortenson was one more European coming to Pakistan "determined to tear Islam down," Risvi noted Mortenson's command of the local language and customs. "I looked into his heart … and saw him for what he is—an infidel, but a noble man nonetheless, who dedicates his life to the education of children." After sending spies to Pakistan to investigate Mortenson's work, the Supreme Council's ruling arrived in the Pakistani town of Skardu; Syed Abbas gathered many Shia clerics for a public reading. On this day of reckoning, Syed Abbas unrolled a scroll that declared to Mortenson, "Your noble work follows the highest principles of Islam … we direct all clerics in Pakistan to not interfere with your noble intentions. You have our permission, blessings, and prayers" (p. 199).
Mortenson's Central Asia Institute (www.ikat.org) has gone a long way in educating young Pakistanis, including young women. And this book can go a long way to educate us Americans about a culture many of us may, in ignorance, fear. Just as Mortenson had to overcome un-Muslim ignorance in Pakistan, he began to receive hate mail from Americans after 9/11. But he has gained steadily increasing support, and this is a step toward deeper trust and peace between our cultures.