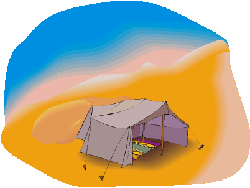 Welcome to The Tent of Meeting. As they say in some Arabic speaking cultures, "Ahlan wa sahlan": these are your people and this is your land.
Although the original Tent of Meeting was the desert sanctuary where Jews encountered God and offered sacrifices on their way to the Promised Land, we have transposed the image to mean a sacred place where sons and daughters of Abraham may gather to meet each other and, we hope, find in that human meeting an intimation of encounter with the One in whose image we are made, and with whom Jews, Christians, and Muslims have covenants.
The Tent of Meeting includes human interest stories and spiritual reflections on current issues and events pertaining to the Abrahamic traditions. We look for significant stories that may not be widely reported and give you links to them. Since the present always bears both hope for healing and scars from the past, we occasionally include historical information to help us understand the present and work toward a future based on respect, reconciliation, and peace. If you have stories either from the present or past that you wish to share, send them to us, and they may find their way onto the site.
You can read the current installment here.
Archives:
2012

2011

2010

2009

2008

2006-2007