Clash or Alliance in Egypt?
by David M. Denny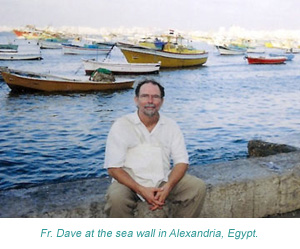 As I watch Egypt's new life unfold, I remember a drive from Alexandria to Cairo in August 2004. My friend Gary Nabhan and I were in Egypt to do research in the oasis of Siwa in the western desert. But we also visited Alexandria, Cairo, and the ancient Christian monasteries at Wadi Natroun. Our hotel in Cairo was staffed by Coptic Christians, and the man next to me in the van en route to Cairo was a Christian named Emaad. He worked for the Egyptian government as an agricultural specialist with a particular focus on monitoring locust populations in Africa and preventing a plague of locusts that could seriously damage Egyptian crops.
I remember Emaad's saying how disappointing it was that Christians in the West have so little contact with or even awareness of the Coptic Christian culture that, according to legend, traces its roots back to St. Mark the Evangelist. On January 1, 2011 many of us in the West were reminded of this community when a bomb went off in Alexandria's Saints Church, killing twenty-one people and injuring eighty others. At that moment, I could never have imagined what would happen in the following weeks.
Three Developments
Rami G. Khouri, an American-born son of Palestinian Christians and frequent contributor to Lebanon's Daily Star newspaper, described Egypt's revolt as "the third most important historical development in the Arab region in the past century..." The first was "the creation of the modern Arab state system after World War I," a fiasco first recounted to many of us in David Lean's classic movie, Lawrence of Arabia. I doubt that many Americans spend much time pondering the meaning of the 1916 Sykes-Picot Agreement, but the anger and sense of betrayal it created in the Middle East is alive and well there. This secret deal between Britain and France carved up the Ottoman Empire into separate states that would be dominated mostly by France and Britain.
Khouri's second most important development takes place in the 1970s, when "the European-manufactured modern Arab state system transformed itself into a collection of security and police states that treated their citizens as serfs without human rights" and relied on foreign support to prop up authoritarian regimes.
So today's third step is truly "an epic, historic moment," according to Khouri, "the birth of concepts that have long been denied to ordinary Arabs: the right to define ourselves and our governments, to assert our national values, to shape our governance systems, and to engage with each other and the rest of the world as free human beings, with rights that cannot be denied forever."
Egyptian Muslims and Christians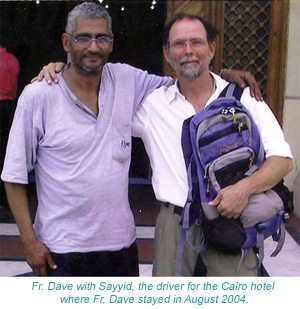 What might this transition mean to Muslims and Christians in Egypt? Some westerners fear the rise of fundamentalist Islam in Egypt. Although I was aware of anti-Christian prejudice when I was in Egypt, I was also aware of a deep, humane and ancient culture with many layers. Egyptians trace their roots back to the Pharaonic culture that pre-dates Christianity and Islam. This already provides a source and sense of national identity. Christianity's presence in Egypt endures, with about eight million people, or almost ten percent of the population. As for their Egyptian identity, some Coptic Christians fought against the Crusaders, since the Roman Catholic invaders represented a culture that held a strong prejudice against the "heretical" Copts.
National Catholic Reporter columnist John L. Allen Jr. suggests that Muslims in Egypt may now face a challenge similar to Catholics' experience in America. Although the Vatican clung to its commitment to Church-State union during the years of the United States' founding and early growth, American Catholics discovered that the separation of church and state worked out just fine. Catholics did not need the coercive power of the state to make sure they remained Catholic. They simply preferred it. For many Muslims, this separation of "mosque and state" has seemed inherently decadent. But Allen suggests that just as Europe developed a Christian Democrat tradition that embraced both Christian principles and a secular democratic state with freedom of religion, so Muslims may find a similar path.
Pope Benedict XVI has adopted a concept first coined by a United Nations initiative promoted by Spanish Prime Minister José Luis Rodríguez Zapatero: an "Alliance of Civilizations." That is, rather than a "clash" between Christian and Muslim civilizations, the pope has called for an alliance against secularism. Ironically, it turns out that a secular state is usually the best form of government to encourage the free practice of religion. Allen spoke to Imam Shamsi Ali of New York's Islamic Cultural Center in 2007, who claimed that "most Muslims have bought into the American approach. We don't have to formalize Islam publicly. We live shariah here better than Muslims in many other places where it's supposedly the law." (Shariah is a system of ethics, laws and behavioral guidelines based on the Qur'an, traditions and sayings of Muhammad, scholarly consensus, and reason.)
In conversations with Egyptian Catholics, Allen reports three ways that American Catholics may be of help to Egyptian Christians. First, although discrimination exists, and threats are evident, such as the Alexandria bombing, we need to be attentive to signs of hope and healing. For example, after the Alexandria attack, many Muslims attended Christian services in Egypt to express solidarity. Reports from Tahrir Square in Cairo include journalist Yasser Khalil's account of how, during the protests, "Christians stood in a circle around Muslims during their Friday prayers to protect them from police." He also reports that later, "Muslims stood around Christians in Tahrir Square as they conducted mass, and joined them in prayer for those who were injured or died in the protests."
Fighting Sectarian Strife
Yasser Khalil also reports that Amr Khaled, a popular Muslim television preacher began an initiative called "An Internet Free of Sectarian Strife" after the Alexandria bombing. Rather than using the internet as a forum for stirring up prejudice or hatred, Khaled promotes principles of civil conversation: Do not use blanket generalizations, foul language, or promote rumors without credible sources. Do not use sarcasm or videos that could heighten tensions or encourage violent opinions. Rather, Christians and Muslims ought to foster peace, compassion, and respect for others' faith. We may disagree on teachings, but we must respect each other. And one final, simple, wise counsel: never post an opinion while angry.
The second way Christians may help is by visiting Egypt. My pilgrimage to the monasteries of Wadi Natroun and Coptic Churches in Cairo gave me a deeper sense of connection to a Christian culture that struck me as vital and deeply rooted in family life and social justice. One of Allen's Egyptian Catholic contacts suggested that American Christians and Muslims come to Egypt together. They could share their respective holy sites with each other and discuss their experience in America with Christian and Muslim Egyptians.
Finally, American Christians can support Egyptian educational and humanitarian work associated with the church. Allen singled out the Association of Upper Egypt for Education and Development, which operates in rural Egyptian communities. You can find out more about it at www.upperegypt.org.
I wonder if my friend Emaad, who rode with me in that crowded van in 2004, was celebrating in Tahrir Square in February. I hope so. And I hope that we will give him reason to trust that Christians in the West may remember him and his community, and offer encouragement in this fragile transition. Rami Khouri reminds us that democracy takes time. It took America three hundred years to embrace civil rights and women's rights. Is it too much to hope that Egypt may learn faster?
Rami G. Khouri's article may be purchased from The Daily Star's archive.
Yasser Khalil's article appears on Common Ground News Service, an excellent source for constructive articles on the Middle East, Muslims in the West, and interfaith dialogue.
John L. Allen's article may be found here.