Summer in the San Luis Valley
by Tessa Bielecki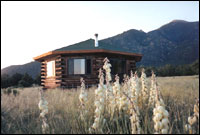 This season is lush in the San Luis Valley. The creeks are rushing with water after so much rain for a change. I've never seen such tall grasses here. The wild flowers are prolific: mint, lupine, orange mallow, delicate butterfly weed, flaming Indian paintbrush, purple bull thistle. Tissue paper primroses carpet the valley floor every morning before sunrise. Prickly pear, scarlet claret cup cactus, and creamy ivory yucca blossoms are at their peak.
After two busy weeks on a "fact-finding" trip to Israel-Palestine, talking almost all day long, and living in the noisy crowded (and charming) old city of Jerusalem, I am glad to be back home in the silence and solitude of my beloved Hogan in the San Isabel wilderness, listening to the night hawks and humming birds, watching the moon rise over the Sangre de Cristo Mountains and set over the San Juans fifty miles away across the valley, looking so close it seems I could easily hike there. (The San Luis Valley is the largest high altitude valley in the world, the size of the state of Delaware.)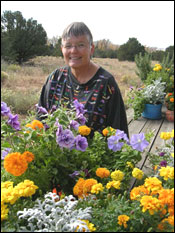 Though I can't grow a garden because of the wild animals and inadequate water system, I love planting pots on my porch: orange and yellow marigolds, blue lobelia, and purple petunias, with a few herbs and silvery dusty miller to soften the bright colors. What a palette! For me planting flowers is like painting. I arrange the flowers differently almost every morning, depending on what's blooming, so I "paint" every day.

I have to bring the pots inside each evening – all 25 of them! – not because of the deer but the pesky ground squirrels. That means that a major part of my summer exercise is what I call "aerobic pot lifting!" At night I have a gorgeous garden inside the Hogan.
I don't have running water. I can fill old jugs at Fr. Dave's hermitage across San Isabel Creek, but I still prefer the old-fashioned method I used before he moved here. I fill buckets up at the creek and haul the water to the porch, past my woodpile of pinon and ponderosa pine, all neatly stacked for next winter. I remember the old Chinese adage about "chop wood and carry water" and feel the same sense of the sacred, the same ecstasy of simplicity. A poem by Spanish philosopher Miguel de Unamuno also comes to mind:
Happy are those whose days
Are all the same!
They quietly retire
Hoping for a new day,
And happy they rise to live it.
They live God,
That's more than
To think, feel
Or want Him.
Their prayer is not something notable
Or apart from their other activities.
They are a living prayer.
At last they die, like the light
Of day when the night arrives,
Moving on to shine in another region.
HOLY SIMPLICITY!
Many people suffer boredom when their days are "all the same," and they look for change and excitement. In this second stage of my life, however, I long for less stimulation and more assimilation, fewer words and more stillness, vast wilderness spaces over the loud, cramped conditions of any city anywhere in the world. Having just returned from Jerusalem, Tel Aviv, Nazareth and Bethlehem, Zurich, Boston and Denver, I am so aware that a city is a city is a city no matter where you are. I feel so blessed to be able to do my work and make my living mostly here in the wilds.
The porch is my favorite place for prayer this season. I bask in the beauty of the flowers and their colors, textures, and shapes. I remember the number of nurseries I saw in Palestine. Despite the oppression and the poverty, people still plant flowers. They know what I know: beauty is not a superfluous luxury but a vital necessity, part of life-giving, humanizing, and divinizing HOLY SIMPLICITY.