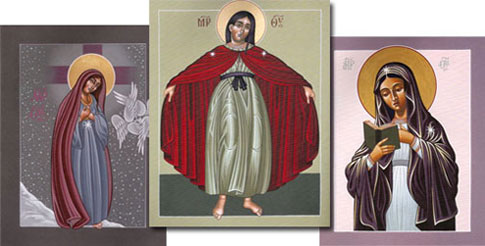 Our Lady of the Snows, Mary of the Magnificat, Mother of the Poor, and Mother of the Incarnate Word.
From Mother of God Similar to Fire, icons by William Hart McNichols with reflections by Mirabai Starr (Orbis Books, Maryknoll, NY, 2010)
"People of all faiths call her Mother," writes Mirabai Starr in her introduction to this new book of icons and reflections. "In moments of deeply personal sorrow, we turn to her for consolation. In our bewilderment, we turn to her for insight."
Starr describes Mary not only as our personal Mother, but as Mother of the World. "When the world seems to be losing its balance and spiraling into a vortex of violence and greed, we turn to Mary for a reminder of what matters most, what endures when all else seems lost, what grace may yet be available when we meet fear with love."
The icons of William Hart McNichols manifest this global dimension: Mother of God, She Who Hears the Cries of the World; The Andronicus Icon of the Mother of God, Consoler of Women; Mary Most Holy, Mother of all Nations. In this one, Mary holds our planet viewed from space against her golden robe and turquoise gown.
McNichols's iconography is unusual, mystical, full of bright colors and rich symbols: snow and stars, water and fire, trees and chalice. There are traditional icons and more contemporary ones, Mary as Burning Bush, the nursing Mary, and several black madonnas, including Mother and Child of Kibeho, where Mary and the baby are clearly African.
"You gaze on the icon, but it gazes on you too... We need to gaze on truly conversational, truly loving images, images that will return our love," says McNichols. As he explains in his Preface, Starr's "meditative prayers" are deliberately brief and serve as "an opening" for each of us who read them. The book offers "a contemplative space for you to enter and find your own relationship with the images and words."
This was certainly my own experience, since I find the icons and contemplative reflections deeply and soulfully connected, as are the icon-painter and the writer of the reflections, who are friends and neighbors in Taos, New Mexico.
This well-designed volume features 51 sumptuous icons and prayers for only $25. I commend Orbis Books for such generosity.
At the end of the book a fiercely red mushroom cloud looms over The Triumph of the Immaculate Heart and Mirabai Starr prays: "You who radiate peace, dear Mary, help us to break this obsession with war and vanquish the culture of death."
The final icon shows an aged Mary as the Risen Christ appears to her. Starr's final prayer openly addresses the tragedy of today's scandals in our churches and communities: "Beloved Mother,... The House of God is on fire. Powerful men, once helpless, perpetuate the cycle of violence and violate helpless children." Then, like Mary and her Son and the spirit of his Gospel, this prayer and the book's reflections end on a note of deep hope, and once again with global perspective: "...[L]et new life spring from the death now unfolding: a new house, built on love, its doors flung open to all the world."
Surely this is the message of every Christmas as we celebrate the birth of Jesus, sprung from the dark mystery of Mary's womb.
My own favorite icons are the simplest and most modern-looking ones, the three depicted here as our Christmas greeting to you from the Desert Foundation. Mary of the Magnificat, Mother of the Poor, spreads the folds of her rich red cloak to give us refuge in our "work and worry," struggling "just to bring home a few eggs, a stack of tortillas," and "a few gallons of gas for a car that barely runs."
Both Mother of the Incarnate Word and Nuestra Señora de Las Nieves are "pregnant with the Word of God," that "miracle ripening in [Mary's] womb... within the mysterious heart of deep winter." May we, too, carry the Prince of Peace in our own soul-wombs this season, and then bear "the Sun of Justice into our midst."
Tessa Bielecki