The Desert Experience: From the Middle East to the American Southwest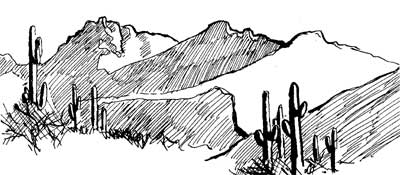 I will lead you into the desert, and there I will speak to your heart.
Hosea 2:14
Southwest Studies
Block 7, 2007
Instructors: Tessa Bielecki and David Denny
Course Description:
What is the desert experience? What is desert spirituality? How do we "read" a desert landscape? How does the landscape affect our "soulscape"? How does the desert of the Middle East influence the three Abrahamic traditions? What happens when they move to the American Southwest (via Spain)? Is the life of the desert hermit relevant today? If we are "secularists" like Edward Abbey, how is our experience of the desert similar to or different from the experience of a person from the Abrahamic traditions? We focus on the Middle East during the first week, Spain and the American Southwest the second week. During the third week at the Baca Campus and Ghost Ranch in New Mexico, we explore these questions on site.
Method, Meeting Times, and Office Hours:
We combine lectures and discussion, some of which include small group discussions and presentations. Reading assignments are listed below. Further photocopied material may be added where appropriate, with plenty of lead-time. Classes meet at 9:00 a.m.-noon Monday through Fridays (except Good Friday, April 6). Each class roughly includes discussion of readings, a lecture or group presentation, two 10-minute breaks, and occasional videos/DVDs. Office hours are by appointment. Fr. Dave's campus phone number: 389-6307.
Requirements and Grading:
You are responsible for careful reading of and reflection on the assigned texts, as well as active participation in classroom discussion. Please make an effort not to dominate or disappear.
Final grades are based thirty percent on intelligent class participation that demonstrates familiarity with the reading assignments, twenty-five percent on the first weekend essay (not graded), which you will be able to rewrite/revise the second weekend (graded), twenty percent on your field trip essay, and twenty-five percent on your final, a 10-page paper based on the readings and class experience.
Please type all your essays, questions and exams double-spaced in 12 pt. Times Roman type with margins of one inch. Staple and number the pages. If delivered to our office under the door, please place in an 8.5"x11" envelope.
We emphasize the importance of writing well; refer to Fr. Dave's customized style sheet. We also suggest you consult the Harbrace College Handbook (Horner/Webb/Miller, 12th edition, 1994). We are committed to correcting writing errors and expect improvement as a result.
If you are concerned with grade point averages, you may want to consider taking the class pass-fail. No cell phones in the classroom. Water bottles? Si! Food? No! Please remain in the classroom until break, except in case of emergency. Tardiness and unexcused absences will not help your cause.

Required Reading
Books
Abbey, Edward. Desert Solitaire. Simon & Schuster Touchstone, 1990
Chávez, Fray Angélico. My Penitente Land. University of New Mexico Press, 1974, 1993
Lane, Belden. The Solace of Fierce Landscapes: Exploring Desert and Mountain Spirituality. Oxford University Press, 2007
Merton, Thomas. Wisdom of the Desert. Boston: Shambhala, 2004
Peters, F.E.. The Monotheists: Jews, Christians, and Muslims in Conflict and Competition. Princeton: Princeton University Press, 2003
Selections (all on E-Res unless otherwise indicated)
Abrahamic Initiative: http://www.sjcathedral.org/internal/?page_id=48
Abrahamic Path: http://www.abrahampath.org
Calvin, Ross. Sky Determines. Albuquerque: University of New Mexico Press, 1948: pp. 1-84.
Ernst, Carl. Preface and "What Is Sufism?" from Sufism. Boston: Shambhala, 1997: pp. xi-31.
Hordes, Stanley. "Adjustments to Anglo-American Society," from To the End of the Earth: A History of the Crypto-Jews of New Mexico. Columbia University Press, 2005: pp. 215-278.
Ibn Khaldun. "Bedouin Civilization and their Conditions of Life," from The Muqaddimah. Princeton University Press, 2004: pp.91-123.
Lings, Martin. "The Desert," from Muhammad: His Life Based on the Earliest Sources. Inner Traditions, 2006: pp. 23-26.
McNamara, William. "The Desert Experience," http://www.desertfound.org/desertprayer/desertprayer_lent1.html and following pages
Menocal, Maria Rosa. "A Brief History of a First-Rate Place," from Ornament of the World: How Muslims, Jews, and Christians Created a Culture of Tolerance in Medieval Spain. Boston: Little, Brown, and Co., 2002: pp. 17-49.
Murata and Chittick. "The Hadith of Gabriel," from The Vision of Islam. St. Paul: Paragon House, 1994: pp. xxv-xxvii.
Qur'an (E-Res)
Steele, Thomas, SJ; "Holy Art, Holy Artist," from Santos and Saints. Santa Fe: Ancient City, 1994: pp. 1-15.