Watch Out
By Fr. Dave Denny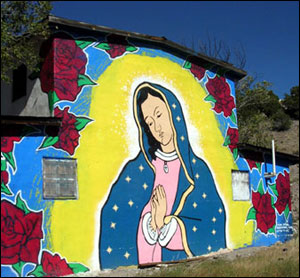 She's trouble. There's the time when Juan
Just wanted a quiet life and then one day,
Out of nowhere: flowers and song and on
The winter hill this beautiful woman, ok?

And this poor Juan, she says, has to go
To the bishop. He just wants to do his chores.
That is how she works. She's trouble, so:
If you see her, for you there's trouble in store.
December 12 is the Feast of Our Lady of Guadalupe, patroness of the Americas. The above image of Our Lady appears on the wall of a general store in Ojo Caliente, New Mexico. The poem will appear in March 2008 in Our Lady of Guadalupe, by Mirabai Starr, published by Sounds True. You may learn more about "this poor Juan," now known as St. Juan Diego, and the story behind the feast day here.
Happy Feast of Our Lady of Guadalupe!