The Seven Sorrows of Mary
by Fr. Dave Denny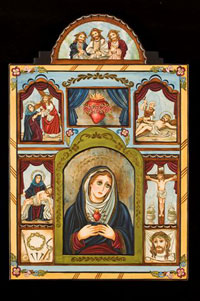 Original artwork © Arlene Cisneros Sena;
used with permission.
I.
MARY MEETS SIMEON IN THE TEMPLE
A lesser woman would have coddled him.
But you would not retract
Your solemn pact,
Though sundered be your soul
Against a storm
Of swords, you let the Word become a fact.
Released against the night, the raging sun
Will shine a shattering light
Against the might
Of men too small, too tame
To rise and reign,
But fools enough to call the Man a blight.
II.
THE FLIGHT TO EGYPT
Other women knew and know the grief
Of fleeing to protect
A child—the wrecked
Dreams, the dirty heat
Of foreign streets;
But one grief no one could then suspect,
And none will ever share: that with your son
The minds of men conspire
To build a pyre
To burn, not just a man,
But God, and think,
"We've come of age: there's man and nothing higher."
But superstitious kings succumb and then
The media forget the tale,
Though Rachel wails,
And hidden in a town
Of no renown
Our unpretentious God is driving nails.
III
JESUS IS LOST IN JERUSALEM
Quick as whipcrack the festive spell
Broke. The boy's not here
And nowhere near.
What kind of God's so prone
To threat? His own
Men will learn he's prone to disappear.
And every time it's all because he hears
That other Voice and must
Respond, and trust
His friends' and mother's grief
Will find relief
When far beyond all grief the world is thrust.
IV
MARY MEETS JESUS CARRYING THE CROSS
Jerusalem and lost again; this time
He's irretrievable,
Irreprievable.
The doctors are no longer
Awed. The lad
Was bright, but Lord? It's inconceivable.
The virgin mother meets the outlawed God;
The only friends the earth
Has got aren't worth
The trouble he has caused.
The two paused
And wondered what such grief could bring to birth.
V
MARY WITNESSES THE CRUCIFIXION
And when the final nail is driven home
Why do you recall,
Against a wall
Inside the shop, that wooden
Bridge he couldn't
Ever finish? Where is it after all?
VI
JESUS IS TAKEN DOWN FROM THE CROSS
You hold the child again. The world is dead.
The only living thing
Begins to sing
Inside of you, a dark
Dark dream: an ark
Of darkness, swords that heal and fish with wings.
VII
JESUS IS LAID IN THE TOMB
The final sword in this great storm has struck.
And you do not retract
Your solemn pact—
Some say the bridge is burned,
But your heart yearns
Across the deepest dark and finds the Fact.
He always was a man at peace with war
Cool when he was heated,
Triumphant defeated,
Close though far, and still
When stirred. They kill
The man; the God will see his bridge completed.