Mirabai Starr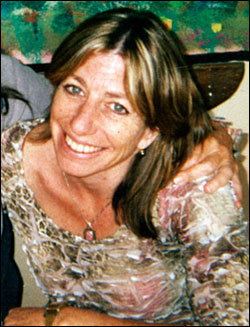 Mirabai Starr grew up in Taos, New Mexico where people still speak a Spanish similar to 16th-century Castilian, the language of Carmelite saints Teresa of Avila and John of the Cross. No wonder Mirabai translated John from his original tongue into a readable, relevant, and contemporary English. She has studied John's texts for almost 30 years.
The day her translation of The Dark Night of the Soul came out, October 30, 2001, Mirabai's 14-year-old daughter Jenny was killed in a car accident. "Since then," Mirabai wrote, "my path has unfolded in the direction of helping people use grief and loss for spiritual growth and transformation through contemplative practice, drawing especially on the Spanish mystics. Teresa of Avila saved my life in the wake of my own tragic loss."
While Mirabai was grieving Jenny's death, she translated Teresa's Interior Castle and several years later, Teresa's autobiography. Tessa had the privilege of writing the Foreword to The Book of My Life and then recording an abridged version of the book on CD for New Seeds Books at Shambhala Publications. "It was thrilling to speak in Teresa's own voice," said Tessa, "especially interpreted so well by Mirabai Starr."
Mirabai's latest work, published by Sounds True, is a series of small devotional books called Wisdom of the Saints, featuring Teresa of Avila, Francis of Assisi, Hildegard of Bingen, Michael the Archangel, Our Lady of Guadalupe, and John of the Cross. (Any one of the tiny volumes – or the entire beautifully designed set – would make a perfect gift for someone you love.) Fr. Dave wrote an original poem for each saint included in the series.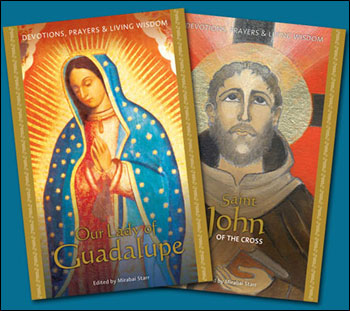 Mirabai Starr's "Wisdom of the Saints" series includes a volume on Our Lady of Guadalupe, whose feast day is December 12, and St. John of the Cross, whose feast is December 14.

Mirabai Starr is an adjunct professor of philosophy and religious studies at the University of New Mexico at Taos. She continues to study a wide variety of religious traditions, including Hinduism, Judaism, Buddhism, and Christianity. She is a mother, a grandmother, and above all, a good friend.
We first met Mirabai on December 26, 2004 in the parking lot of the Taos hospital where Tessa had gone for an x-ray. We had scheduled only a short breakfast meeting. But we bonded so immediately and so deeply, not only because of our love for St. Teresa, but because of our mutual experience of grief and loss, that we visited the whole rest of the day.
The encounter was so memorable, Fr. Dave wrote Mirabai a love poem about it two years later for her birthday, which also happens to be the same day as his. It would help if you knew two details. First, a Chinese dragon hangs on the ceiling above Mirabai's table. And secondly, as "a daughter of the counter-culture," Mirabai lived in an alternative community outside of Taos. The film, Off the Map, with Joan Allen and Sam Elliott, beautifully depicts this alternative way of life.
Here now is the poem, to help you understand the profound significance of having Mirabai Starr close within our Circle of Friends.
Unmapped
for Mirabai
When I fell off my map I landed just
Outside your yard and, bleeding from the fall,
I saw you in the parking lot. Must
Have been the day after Christmas as I recall.
Was "shy" the first word? Or "small"? Or "Oh!"?
Or maybe I didn't have a word for you.
I can still see your face before you know
Or really see the man. You wonder who
Just fell into your map; I don't mean Taos.
I mean the world around the table there
Beneath the dragon, with coffee and almonds, where
Love stopped the bleeding: your unmappable house.
Links
www.MirabaiStarr.com
www.soundstrue.com (for Wisdom of the Saints)
www.newseedsbooks.com (for written or recorded Teresa of Avila: The Book of My Life)
www.riverheadbooks.com (for translations of Dark Night of the Soul and The Interior Castle)