Shahna Lax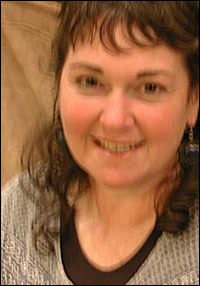 Shahna Lax creates doors, windows, altar meditations, lighting, mirrors and other forms of transformative art embracing the shared aesthetics of the Judaic and Islamic cultures.
Following her return from studies in Hebrew etymology at Haifa University in Israel, Shahna established a ceramic studio in Santa Monica, California, where she produced Judaic ceremonial art and Hebrew micrographies. A scholar, gardener, artist and parent, Shahna incorporates her life experience into the quality of her copperwork.
We include three images from Shahna's work, which features copper etchings with open cutwork adorned with sacred geometries and Hebrew and Islamic calligraphies that express the shared values of Judeo-Islamic cousin cultures. Shahna describes her work here. She may be contacted at moresca.copper@gmail.com or by mail at Studio Moresca, P.O. Box 297, Crestone, CO 81131.
This season especially, may Jews, Christians and Muslims pray for each other. You may be moved to recite an Abrahamic prayer for peace published by Pax Christi, a Catholic peace movement.