Loren Haury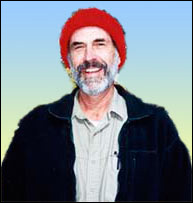 In his poem, "Getting There," Loren Haury describes the dangers and decisions that accompany a trek through the desert. His black and white images depict the stark wonder of the journey.
Born and raised in Tucson, Arizona, Loren graduated with a degree in mechanical engineering from Yale University in 1962. After five years as a pilot in the U.S. Navy, he earned his Ph.D. in biological oceanography at Scripps Institution of Oceanography (University of California at San Diego).
Following five years at the Woods Hole Oceanographic Institution on Cape Cod, Loren returned to Scripps where he worked as a research oceanographer until his retirement to Sedona, Arizona, in 1999. He currently serves on the board of directors of the Western National Parks Association in Tucson, and on the advisory council to the Center for Sustainable Environments at Northern Arizona University in Flagstaff.
Haury occupies his time with caring for several acres of orchard, a serious devotion to photography, and all-too-infrequent opportunities to conduct research on the freshwater organisms of the Colorado Plateau and to read and write poetry.