Tentative Schedule
(Subject to Change)
Monday, August 31: Arrive between 2-4 pm and settle in. Light supper. Evening Circle: Orientation, introductions, getting acquainted. Night prayer.
A Desert Day
Tuesday, September 1: Meditation and late morning session: "What is desert spirituality? How does it relate to your life in the city or suburb?" Quiet afternoon. (Read Thomas Merton's Wisdom of the Desert?) Late afternoon session: DVD entitled "Three Faiths, One God" and discussion on the encounter between Jews, Christians, and Muslims. Evening session: Sharing insights from Merton. Night prayer.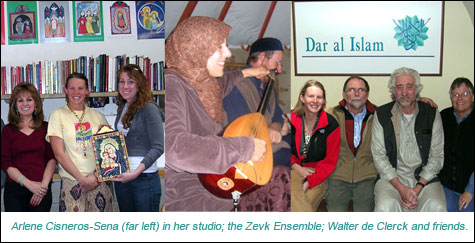 Christian Art in Santa Fe
Wednesday, September 2: Quiet morning. Mass with Fr. Dave at Casa. Quick and early lunch. Drive to Santa Fe to visit santera (saint-painter) Arlene Cisneros-Sena at her studio-home. Drive to Santa Fe plaza for options: visit Cathedral, Georgia O'Keeffe Museum, shopping, etc. Dinner at restaurant of your choice in Santa Fe or Abiquiu, or drive back to Casa. Free evening.
Dar al Islam
Thursday, September 3: Quiet morning. Meditation and lunch at noon. Drive to Dar al Islam for tour and talk by Muslim leader Walter de Clerk. Options: Hike La Plaza Blanca ("The White Place") or return to Casa. Evening: Sufi music, stories, and prayer in traditional yurt with the Zevk Ensemble.
The Crypto-Jewish Experience
Friday, September 4: Quiet morning. 1 pm: Netanel Miles-Yepes describes how his Crypto-Jewish experience led to his Sufi-Hasidic life in relationship to the desert. Evening: Final Circle. Night Prayer.
Departures
Saturday, September 5: Departures after breakfast. Or stay for quiet desert day, visiting, or further exploration. Visit Monastery of Christ in the Desert north of Abiquiu for Vespers or Compline?
Sunday, September 6: Departures after breakfast. Visit Monastery of Christ in the Desert or Santa Fe Cathedral for Mass?
Recommended Reading
We will send you these readings when you register for the pilgrimage-retreat: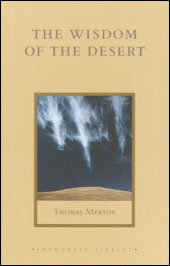 Jacobs, Janet Liebman. "Crypto-Jewish Descent," from Hidden Heritage: The Legacy of the Crypto-Jews. Berkeley, Los Angeles, London: University of California Press, 2002: pp. 1-19. This introduction to Liebman's book briefly introduces the background of Sephardic families whose ancestors came to the Americas as Catholic Christians, but who secretly preserved Jewish customs in spite of threats from the Inquisition.
Lings, Martin. "The Desert," from Muhammad: His Life Based on the Earliest Sources. Inner Traditions, 2006: pp. 23-26. Lings retells the tale of Muhammad's childhood in the desert with his bedouin foster parents.
Murata and Chittick. "The Hadith of Gabriel," from The Vision of Islam. St. Paul: Paragon House, 1994: pp. xxv-xxvii. This beautiful account of an encounter between Muhammad and the angel Gabriel outlines the five pillars of Islam.
Steele, Thomas, SJ; "Holy Art, Holy Artist," from Santos and Saints. Santa Fe: Ancient City, 1994: pp. 1-15. Steele describes the earthy, intimate spirituality that gives birth to New Mexican images of saints.
We also recommend the following books and web site to help you prepare for Sand and Sky:
Abbey, Edward. Desert Solitaire. Simon & Schuster Touchstone, 1990. This contemporary classic is cantankerous and irreverent, not unlike the iconoclastic Desert Fathers and Mothers.
Lane, Belden. The Solace of Fierce Landscapes: Exploring Desert and Mountain Spirituality. Oxford University Press, 2007. Lane follows three threads: the desert of grief prompted by his mother's final illness, the solace he derived from ventures into the wilderness, and a history of desert imagery in Christian spirituality.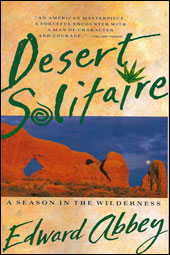 Menocal, Maria Rosa. The Ornament of the World: How Muslims, Jews, and Christians Created a Culture of Tolerance in Medieval Spain. Boston: Little, Brown, and Co., 2002. Menocal narrates the drama of the 8th-century arrival of Muslims on the Iberian peninsula, the flourishing of Muslim and Jewish communities there while northern Europe remained "dark," the development of a rich Christian-Jewish-Muslim culture, and the "triumph" of Christianity that spurred the expulsion of Jews and Muslims.
Merton, Thomas. Wisdom of the Desert. Boston: Shambhala, 2004. After a lucid introduction to desert monasticism, Merton offers translations of many venerable Sayings from the Desert Fathers.
Abrahamic Path: http://www.abrahampath.org. This site describes the development of a contemporary walking path following Abraham's sojourn from Haran to Hebron.

When I entered the mosque, I felt like I was in a different land: not New Mexico, but perhaps Morocco, Egypt, or even war-torn Iraq. I did not feel like a stranger but comfortable and at home. Walter stood before us discussing his role in the desert, how he traveled the world and explored numerous religions, and the pain and joy of his haj [pilgrimage to Mecca]. He was the first Muslim I'd ever met. My mind was opened and changed listening to him speak so intelligently, honestly, and passionately about his faith and beliefs. Our contemporary news doesn't convey this quite so accurately.
- B.G., Danbury CT