Seeking Understanding in Israel/Palestine:
A Two-Week Fact-Finding Trip
June 14-28, 2008
Organized by Friends of Sabeel-Colorado
Objectives:
To visit with Palestinian and Israeli peace and human rights groups and individuals working for peace.
To see first-hand the reality of Palestinian life and the impact of the occupation - the wall, settlements, checkpoints, roadblocks, refugee camps, etc.
To consider what is needed for a just peace.
Trip Highlights:
Stay in the Old City of Jerusalem, within easy walking distance of the Western Wall, the Church of the Holy Sepulcher, and the Dome of the Rock. Explore the bazaars of the Old City.
Tour the illegal settlements of East Jerusalem with the Israeli Committee Against House Demolitions (ICAHD), stand with the Women in Black on Friday at noon, meet withan Israeli Refusenik, the Israeli Human Rights organization B'Tselem, and visit the Sabeel Ecumenical Liberation Theology Center in Jerusalem.
Tour the Old City of Bethlehem and visit the Church of the Nativity, visit a refugee camp, take a tour of the separation wall around Bethlehem, witness checkpoints and roadblocks,visit in the homes of Palestinians in the Beit Jala area, and learn about nonviolent resistance against the construction of the wall.
Visit a destroyed Palestinian village with Zochrot, and enjoy a feast in the Palestinian village of Ayn Hawd that was internally displaced in 1948, and is still fighting for equal rights within Israel.
Travel to Galilee to visit Nazareth, the Mount of Beatitudes, and spend two nights by the Sea of Galilee; Visit the village of Ibileen in Galilee to see of the work of Archbishop Chacour, author of Blood Brothers.
Meet with the Christian Peacemaker Team in Hebron, and visit the Mosque of Ibrihim, honored by Jews and Muslims as the burial place of Abraham.
Swim in the Dead Sea and visit Masada.
Tour Leaders: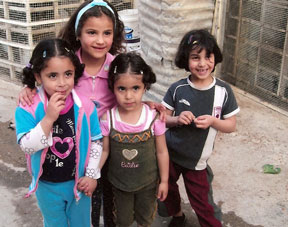 Joy Lapp, Instructor of Religion and Ethics, Metro State College of Denver. Joy spent three years in the Middle East working with Mennonite Central Committee, and is Chair of Friends of Sabeel-Colorado.
Rev. Arnie Voigt, Retired Lutheran minister. Arnie has visited Israel/Palestine many times and has led numerous tour groups.
Cost:
$3125: Includes round-trip airfare from Denver to Tel Aviv, hotel, 2 meals per day, tour guide and entrance fees, transportation, tips. Does not include lunch, souvenirs, personal expenses or travel insurance. Prices based on double-occupancy. Supplement for single room is $352. Prices are based on a minimum of 20 travelers, and subject to changes due to circumstances beyond our control.
Travelers must have a passport that is valid six months beyond date of re-entry to U.S.
Confirmation needed by April 1, 2008.
For more Information:
Please contact Joy Lapp 303-494-2338, lappj@earthlink.net
We extend a warm invitation to join this cross-cultural encounter
to view the holy sites, and to visit with people passionately
involved in the effort of peacemaking today.