The Desert Foundation occasionally offers retreats, workshops, classes and other activities.
June 2011
Inner Stillness: The Wisdom of the Desert with Tessa Bielecki - Boulder, CO
April 2010
Sand and Sea: From the Desert to the Celts with Tessa Bielecki
November 2009
A Wild and Laughing God: A Dialogue with Tessa Bielecki and New Dimensions Radio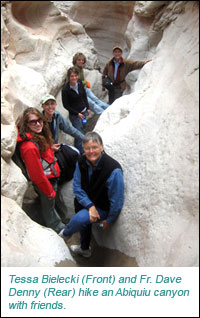 Upcoming Retreats
Join Tessa Bielecki and Fr. David Denny at the first Desert Foundation pilgrimage-retreat
Sand and Sky
August 31-September 5, 2009
Casa del Sol Ghost Ranch
Abiquiu,New Mexico.

Read all about the Sand and Sky retreat here.
May 2008
Ireland: Celtic Sages, Saints, and Sacred Sites
May 15-25, 2009
From the tales of ancient saints to the music and folklore that are the heart and soul of the land, Tessa Bielecki and Noirin Ni Riain will lead us on this journey of sacred sites and sounds of Ireland. More information available here.
June 2008
If you wish to observe present conditions in Israel and Palestine firsthand, join friends of Sabeel–Colorado June 14-28, 2008 for Seeking Understanding in Israel/Palestine: A Two-Week Fact-Finding Trip.
You can find out more about Sabeel in our Circle of Friends archives. Friends of Sabeel-Colorado is a local group affiliated with Friends of Sabeel-North America (www.fosna.org) and Sabeel in Jerusalem (www.sabeel.org). Their mission is to increase awareness of the situation in Israel/Palestine and to advocate for a just peace.
The Desert Foundation's Fr. Dave Denny and Tessa Bielecki participated in Sabeel's 2007 trip. We experienced the heroism of Israeli and Palestinian peacemakers and developed a deep bond with our fellow voyagers. Read Tessa Bielecki's account of the trip, "Jerusalem, Jerusalem …" and share her experience of the meaning of the trip and the human encounters that left her "profoundly changed."
For more information on this year's trip, please contact:
Joy Lapp at 303-494-2338, or email lappj@earthlink.net.
June 2008
Join Desert Foundation co-founder Tessa Bielecki June 6-8 at Shambhala Mountain Center in Red Feather Lakes, Colorado for Walking the Tightrope: Navigating Life's Tensions Creatively. Work and play, service and celebration, solitude and community—explore how to balance the polarities in our lives by looking at the lives of the Christian mystics. Visit Shambhala Mountain Center's web site for more information.
September 2008
Path of Transformation Conference 2008
Hamburg, Germany
September 4-7, 2008
Tessa will give a workshop on "Spiritual Practice: Bringing Presence Into Our Lives" and converse with other presenters from Buddhist, Sufi, and Hindu traditions, as well as representatives of indigenous cultures and psychological disciplines. She will draw on her experience of monastic life, her writings on St. Teresa of Avila, and her love for desert spaciousness. More information available here.
September 2008
Inviting Wisdom
Earthy Mysticism: Wisdom from the Christian Mystics and Poets
Fort Collins, Colorado
September 26-27, 2008
Looking at the Mothers and Fathers of the desert, the ancient Celtic saints, Hildegard of Bingen, the great Teresa of Avila and other mystics and poets into our own era, we examine aids and obstacles along the path and how to navigate some of the crucial polarities: work and play, service and celebration, solitude and community. More information available here.
September 2007
Celebration of Celtic Spirituality, La Veta, Colorado: The 2nd Annual Celebration of Celtic Spirituality offers participants an opportunity to delve more deeply into the richness of the Celtic spirit by connecting the spirituality of the Celtic Christians to the Desert Mothers and Fathers. The Desert Foundation's Tessa Bielecki will lead a one day retreat which will explore some of this approach to contemplative spirituality.
April 2007
Sand and Sky: The Desert Experience from the Middle East to the American
Southwest" is a month-long class first taught at Colorado College in April
2007 by Fr. Dave Denny and Tessa Bielecki. This course explores the meaning of
the desert experience in Judaism, Christianity and Islam and examines how
these Abrahamic traditions flourished in medieval Spain and later took root in
the American Southwest.
February 2007
Click here to learn about Mirabai Starr's new translation of The Book of My Life by St. Teresa of Avila and listen to an excerpt read by Tessa Bielecki, whose audio version of Teresa's Life will appear simultaneously with Shambhala Publications' print edition of this spiritual masterpiece.
"Fire and Light" is a month-long class at Colorado College in Colorado Springs, taught since 1993 by Fr. Dave Denny and Tessa Bielecki. This is a survey of the history of Christian mysticism from its Biblical and desert origins into the 21st century, with an emphasis on the Carmelite tradition.

"Wild at Heart" : Teachings and Practices to Free the Mystic in You by Tessa Bielecki - Available Now!
May 2007
Tessa will help lead a pilgrimage to the Holy Land in May 2007. Other teachers represent the Jewish, Sufi, and Buddhist traditions. This is an opportunity to visit some of the sites most sacred to all three Abrahamic traditions, particularly in Jerusalem. Contact tina@authenticasia.net or call 888-586-9958.
Autumn 2005
Release of the new edition of "Practice of the Presence of God"