Whether you live in the Sahara or San Francisco, the Mojave or Moscow, the Gobi or Galway Bay--it doesn't matter. You do not have to experience the geographical desert. The call of the desert is God's call to the intimate depths of every human heart. As we hear through the prophet Hosea, "I will lead you into the desert, and there I will speak to your heart" (Hosea 2:14).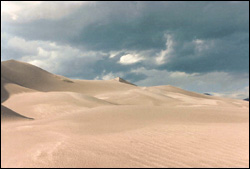 The Desert Foundation is an informal circle of friends who share an interest in the cultures and spiritualities that grow out of the world's deserts. We study, teach and write about the inner and outer desert in Christianity, and in relation to the other contemplative Abrahamic traditions: Judaism and Islam, with emphasis on the Middle East and the American Southwest.
Founded in June 2005 by Tessa Bielecki and Fr. David Denny, the Desert Foundation looks forward to a lively exchange with you, in order to disseminate the wisdom of the world's desert peoples, cultures, and religions, and to foster peace, understanding, mutual respect, and reconciliation between them.
Tessa Bielecki tells you how she first fell in love with the desert.
Fr. Dave Denny describes the universal significance of the desert, which is not only geography but spirit.