Coming Soon: A New Look
We are moving from this Desert Foundation web site to our new inter-active site called
Sand and Sky: Desert Voices
, which we will launch in May. At that time you may continue to use this address or Sandandsky.org. We hope you will enjoy our new look and the opportunity to dialogue more with us. In the coming months,
Sand and Sky
will focus on incorporating material from the original site. This will introduce us to new readers and give regular readers a chance to review earlier material and leave a comment. As of July 1, 2014, we will begin including new material. The learning curve is steep, so please be patient with us?
Click
here
to learn about our new interspiritual retreat, Wisdom of the Seasons, and join us May 23-25, 2014 at Shambhala Mountain Center in Red Feather Lakes, Colorado. Celebrate late spring in the mountains and awaken to the divine nuances of all the seasons, both in the outer landscape and in our inner soulscape. Explore the sacred in the ordinary, the role of poetry, and the diverse weather you may encounter through the mystical seasons of your life. We will draw on the wisdom traditions of the Abrahamic peoples who emerged from the desert: Jews, Christians, and Muslims, as we weave together lecture and discussion, silent meditation and personal sharing, journaling and hiking the land.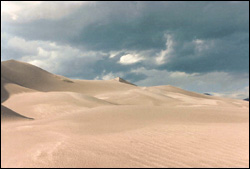 The Desert Foundation is an informal circle of friends who share an interest in the cultures and spiritualities that grow out of the world's deserts. We study, teach and write about the inner and outer desert in Christianity, and in relation to the other contemplative Abrahamic traditions: Judaism and Islam, with emphasis on the Middle East and the American Southwest.
Founded in June 2005 by Tessa Bielecki and Fr. David Denny, the Desert Foundation looks forward to a lively exchange with you, in order to disseminate the wisdom of the world's desert peoples, cultures, and religions, and to foster peace, understanding, mutual respect, and reconciliation between them.